Out-dôrz Adventure Care
Out-dôrz is proud to source from America's Finest CBD premium hemp farms that promote organic practices in every step of their process. Carefully tested and certified by independent third party laboratories our CBD is grown with out pesticides in Colorado.
Created to nourish your body and ease your mind, balance is our mantra. Ethical and safe, explore the world with Out-dôrz!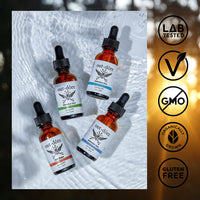 Our Story
Out-dôrz founder Erin Dempsey has been on a path of self healing the last 10 years. Her journey began after a ski injury resulting in knee reconstruction surgery and shortly after diagnosed with auto-immune disease, Ulcerative Colitis. It was in these moments of helplessness that she began to explore an alternative plant based path always striving to make choices to feel her best.
Fueled by nature's natural high, Erin began traveling the world witnessing fragile eco-systems while uncovering her own truths that called for a toolkit of products to protect both herself and the environment naturally. Prone to inflammation CBD became essential in maintaining her daily well being as well as using a natural suncare regimen that was reef safe and non-toxic. Created with balance in mind It was from these explorations that Out-dôrz Adventure Care came to be. Our mission is too educate and empower our tribe Worldwide by connecting to the divine source~ The real adventure lies within let Mother Nature be your guide. We are transforming and alchemizing to be a better version of ourselves everyday, so please join us and GO OUT-DÔRZ!